SCROLL
"Who you are is how you supervise": multi-faceted supervision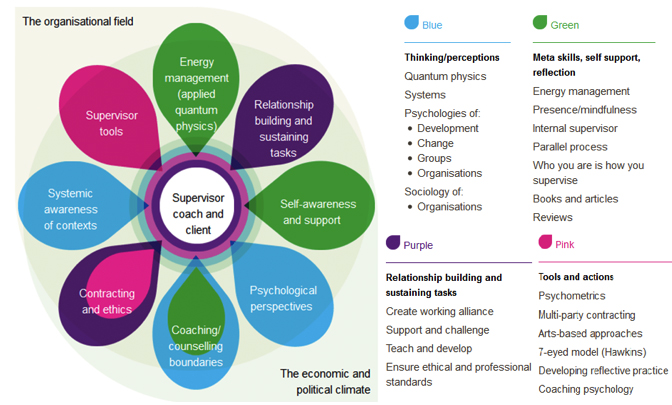 In my visit to the CSA (Coaching Supervision Academy, www.coachingsupervisionacademy.com) 'sponsor stand' at the recent coaching event, I picked up a small business card with the Full Spectrum Model of supervision printed on one side which had been left for the stand visitors. In tiny font and a range of rainbow-coloured hues, the card served as a deep memory trigger harking back to my days as a student in supervision at the incredible school founded by Edna Murdoch—my Proustian madeleine.
Memories of the book gushed in. Lise Lewis (former EMCC president) writes in the Forward to Full Spectrum Supervision (edited by E. Murdoch and J. Arnold):   "CSA is … producing this evidence and practice-based publication, taking supervision to another level appropriate for coaching now and in the future. […] For a supervisor wishing to deepen and broaden their practice or for coaches / mentors wanting to access a text before, during and following training this is a superior resource based on the Full Spectrum Model."
One idea has always stuck out for me in my own supervision: "the success of an intervention depends on the inner condition of the intervener." (Senge). That feeling of supervising from a place of 'not knowing', at the bottom of Otto Scharmer's proverbial U, is incredibly difficult because its success depends on cultivating a strong, lush and vibrant inner condition, which gives us the ability to remain completely open. Not enough of us practitioners, who run around day after day, sometimes with lingering health from a particularly severe 2019 flu, remember this. I bring this topic often to my own supervision group.
Of extreme importance in my work is relational presence and the power of 'just being', of my ongoing ability to learn from every situation and need for acute situational awareness and openness to hearing. So much of what goes on is unsaid. I am really invested and passionate about listening to and supporting my clients, and I do open my heart to them. I know I can veer towards the 'intellectualisation' of my coaching sessions—the head taking over and coming at situations in a cerebral, more business-like way, when I operate in periods of more intense pressure/deadlines). From this amazing book, I pick up Thick Nat Hahn's "open heart before mouth" and "Ubuntu", I exist because of who you are, two sentences that remind me the correct order of things.
To summarise, I recommend the book in its entirety as a possible framework for reflective practice. I would encourage every coach to try new things, to offer original ways to explore in their coaching in service of their clients. The lines of the grid are the four blocks that underpin the Full Spectrum Supervision diagram and that encompass the richness of the model, what Lise Lewis highlights above as 'evidence and practice-based' approach from the range of supervision experts. In the columns, I jot down regularly where I feel I am at a given time of my work and not lose sight of what can enrich it. I'm happy to share a recent one.
In comfort zone
To be explored and mastered better
Energy/desire to apply
Thinking Perspectives
Organisational behaviour
Group dynamics
Performing teams
Systemic thinking
Change and the impact of change
Meta skills, self support, reflection
Thinking deeply
Accessing intuition
Presence
Clean language
Delineating my boundaries
Positivity
Parallel processes and how they work
Self-management (meditation, yoga)
Creativity in supervision
Relationship building and Sustaining tasks
Ethics and ethical boundaries
Working alliances
Building trust
Building trust by giving up control and being comfortable 'not knowing'—being comfortable in the not knowing space
Tools and actions
Multi-party contracting
Psychometrics
Arts based approaches
7-eyed model
Transactional Analysis
Gestalt
Reflective learning

Become more fluent in more advance psychology concepts
Happy practice!